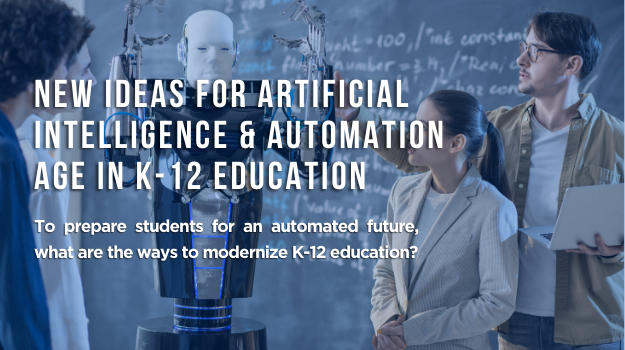 Introduction
To prepare students for an automated future, what are the ways to modernize K-12 education? This article will discuss the report highlighting some of the most promising applications for artificial intelligence and automation in the K-12 education landscape.
At a dizzying speed, automation and artificial intelligence are becoming disrupting jobs. A forward-looking population that can adapt would require fast technical advancements.
Although the position of education has been the subject of much of the policy debate, not all students attend college, and not all who do are prepared for a comprehensive technology-driven education.
We need to modernize K-12 education to train students for an increasingly automated future. This need is especially apparent when kids return to school this year.
Some students are studying online, others in person, and some in pods made up of kids whose parents can afford to hire personal teachers because of COVID-19.
To help them build a solid base for the future economy, students need an educational upgrade.
To overhaul K-12 education to explore what this transition could look like, we encourage gradual reform and reimagine what an excellent future school structure might look like.
New Ideas for Artificial Intelligence & Automation Age in K-12 Education
Not only does learning take place in classrooms, but multiple methods and routes also do it. It is essential to motivate students to learn at their own pace while enhancing differentiated learning.
We can enhance K-12 Technologies by:
Instruction on Scaling Efficiency
Differentiated curriculum facilitation
Expanding practice options
Increasing the participation of students by games and videos
Recognize the role of schools, including socio-emotional growth and child care, in non-academic fields. Teachers for the next generation are doing a lot. To allow for the wide variety of problems and subjects they cover, we should modify the school system financially and structurally.
We need to concentrate on teaching transferable skills to pupils, including imagination, problem-solving, and critical thinking.
Provide more focus and money as laid bare by COVID-19 to those who have the least at home. The students who need them most should be allocated scarce human, technical, and staff services.
Taken together, these new ideas on K-12 educational technology will help equip students for a transformative work environment that heavily relies on technology.
Equity and Inclusion
Today alongside technical skills, schools teach equity and inclusion. Educators cannot assume that students understand these problems already.
Although they can be challenging to discuss, they need to improve students' current education, their future work environments, and their ability to complement the technology they will use in their careers.
Also, although equity and diversity skills are not often seen as a vital component of the technical toolkit, technological discrimination may result from a lack of competence in this field: creating software without all users in mind.
Inclusion and equity in teaching impact pupils outside the classroom, shaping their future jobs and advancing expectations and technologies in the workplace.
Schools need to be comfortable designing curricula that resolve these problems and inspire learners to improve technically and ethically. Inclusion and equity in teaching impact pupils outside the classroom, shaping their future jobs and advancing expectations and technologies in the workplace.
Impact of COVID-19 on AI use in K-12
However, most technological methods have relied upon K-12 education until recently on simpler AI algorithms that function based on preset rules and conditions.
Using machine-learning methods, a new generation of AI-based ed-tech instruments is emerging to uncover trends and recognize relationships that are not part of their original programming. These devices continuously learn from data gathered and more truly mirror human intelligence any moment they are in operation.
As a means to offer more customized instruction, tailoring the program to the abilities and limitations of a pupil, Ed-tech directors are pitching sophisticated statistical AI instruments.
Researchers suggest advanced AI is unlikely to change K-12 schooling.
Still, in fields such as adaptive teaching, automatic essay scoring and reviews, language learning, and online curriculum-recommendation engines, it may positively affect.
Many of the startups that are pioneering education strategies for this form of AI cannot yet sell their products in the United States on a mass scale. This is because advanced AI systems that are incredibly accurate need access to comprehensive data sets to populate and train the machine learning algorithm to make consistent predictions.
To avoid promoting ethnic, gender, and other prejudices, such algorithms must also access high-quality data.
Conclusion
Until districts become more familiar with using them on a broader scale, it would take more time to use AI devices and automated resources in the classrooms. And more study is required to illustrate the advantages of advanced AI programs before schools are prepared to up pay for them.
It will reshape the school landscape and train students for the future workplace by growing collective engagement in the schooling of students and improving customized learning, such as AI and automation.
Tech directors have just the responsibility to facilitate the new ideas on automated learning in K-12 education.