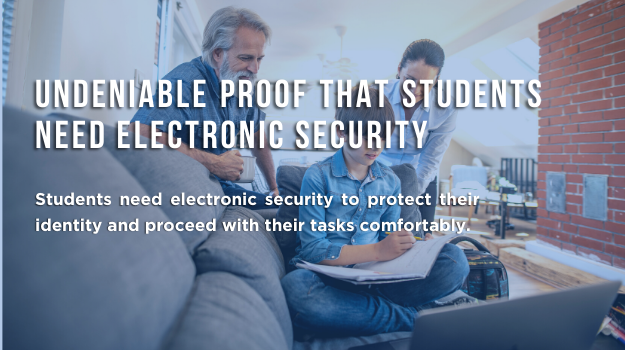 Students need electronic security to protect their identity and proceed with their tasks comfortably. Imagine your kid surfing the Internet, excited to have fun, and then suddenly, a message pops up on his screen from an anonymous source. Wouldn't you panic?
Through the years, electronic security is a measure to protect your child's wellbeing under any circumstances. As a parent, you need to do something before a website automatically pops up and presents some sexually explicit content.
Online threats may seem impossible for young kids to encounter, but they are genuine dangers that are lurking in online environments.
Importance of Security in Students' Lives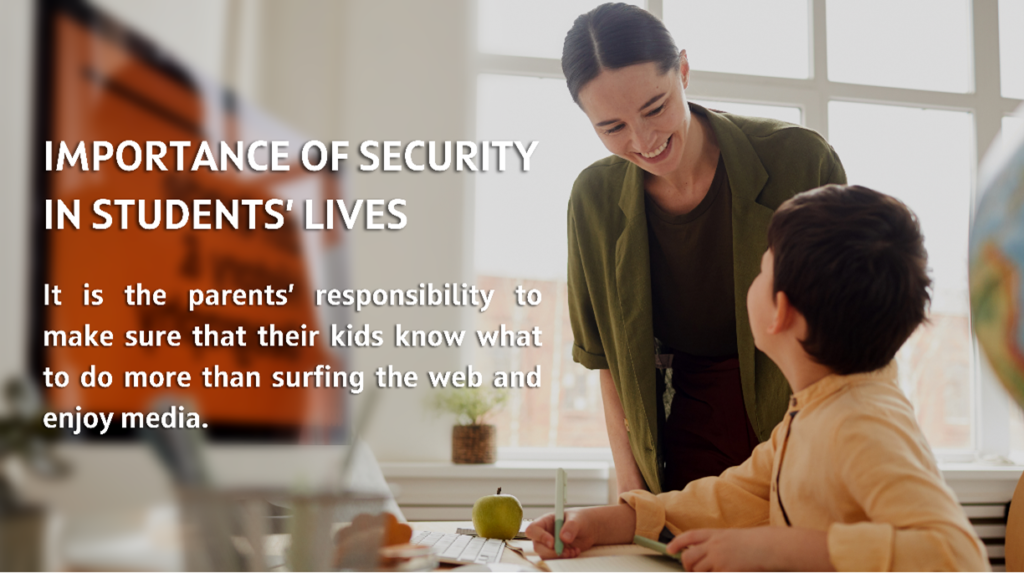 It is the parents' responsibility to make sure that their kids know what to do more than surfing the web and enjoy media. If they're out there without supervision, there could be chances that they'd be harmed virtually.
Children in today's time are surrounded by technology at school. According to Panda Security:
70% of 8-17-year-olds see images and videos that are not suitable for their age in the last year.
23% of 8-17-year-olds confessed that they didn't know how to control who can see their social media profiles.
29% of parents let their children to use the Internet without constraint or supervision.
All adults, family or not, should lead the discussion on digital literacy and online safety, especially in this 21st century.
As PGSD pointed out, "People in the 21st century live in a technology and media-suffused environment, marked by access to an abundance of information, rapid changes in technology tools, and the ability to collaborate and make individual contributions on an unprecedented scale."
Several sites can be found during school hours, so allow your kids to check their privacy while still allowing them the freedom to use the Internet. At a minimum, show them how to access privacy settings or any approach to help them to avoid what's needed. Better be safe than sorry.
If you're out of ideas, here are some guidelines for you to follow. On each social media site, do the following:
Be sure to check your kids' privacy settings to see who can view their posts.
Go through the "friends" list and remove suspicious people.
Change privacy settings to "only friends" when it comes to posting to limit online threats.
Add software to disable malicious ads or other unnecessary posts. For students, it's crucial to know what makes a website off-limits.
Look at tagged images that others have posted to see if they're a threat to your kids' safety.
Backup files, important emails, smartphone photos/apps/etc. to be sure.
Reiterate the importance of logging out of accounts whenever they turn off their gadget.
Please don't allow them to wander too much around the web. Too much information can get someone into trouble.
With these tips, your kid could be safe from threats and other unnecessary content online. With school requirements being done with the help of Internet, extra care is needed to ensure security.
Conclusion
Students are more connected than before, thanks to the Internet. Being "always-on" can be great, as it can help young people to learn how to catch up and experience more. However, like any communication tool, the online world has its shortcomings.
Kids these days know better than to share passwords or their addresses online; however, they're still kids to be led on.
"Cyberbullying is a common problem that nearly every school is dealing with," says Janet Moran. In that case, offer your underlying support to educate them about online child safety laws.
The online world is a complicated place. Even adults who are not that techy find themselves in a situation where it can be nasty and dangerous.
It is beyond logical that our way of living requires technology to move forward. However, as parents, please allot time to be involved in your kids' school life as much as necessary. They're much more likely to work if they feel relaxed with someone by their side.
It's okay to keep up with technology. Yet, keeping up with it means that it's evolving and is much juicier with information than before. There are lots of educational sites out there, but not all of them are trustworthy. It's a good idea to block such risks, but do not let your kids be deprived of using the benefits of technology