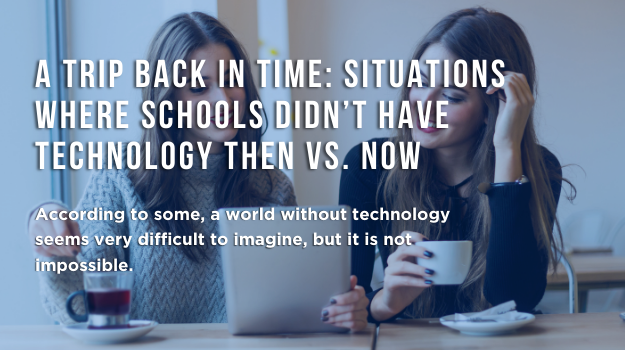 People weren't so invested in technology in the past, especially when it comes to learning purposes. One thing is because they were fond of their lifestyle. The other is that the presence of technology has developed several changes that were overwhelming at some point.
According to some, a world without technology seems very difficult to imagine, but it is not impossible. We mustn't forget that there was a time when people used to live without it.
But then, is technology important in school?
School Decades Ago
Decades ago, books were infrequent, and only an elite few had access to learning opportunities. Aside from that, students had to travel to sorts of places to get an education that is appropriate for them.
Through the years, classrooms have been relatively isolated, and collaboration has been limited due to resources being unavailable to some. When it comes to real-time discussions, classrooms were still furnished with white and green boards, and some teachers even had old fashioned-chalkboards to proceed with the lesson.
"During the 1980s and 1990s, classrooms were lucky to have a single computer. Entire schools often had a single computer lab to be shared by all classes—likely filled with boxy Macintosh PCs," says Edmentum.
Although it's only a limited supply, the students still learned something worth their time.
Schools – Then and Now
Are you a fan of technology? Have you even survived a day without it?Let us have a comparison of situations where schools didn't have the technology then vs. now.
Situation #1
Then
Students had to write their notes on paper.
Now
Students have access to Microsoft, and other platforms, that enable them to type what they need to write.
Situation #2
Then
Educators had to use boards to teach a lesson.
Now
With just a few taps, educators can access the Internet, present video content, and even play music for learning purposes.
Situation #3
Then
Students had to do their school stuff manually and had to spend long hours to accomplish something.
Now
Technology has brought changes in the classroom that would have been nearly unimaginable for people back then.
Situation #4
Then
Students only had their books and notebooks.
Now
Students can access their tasks with the help of high-class technologies. The adoption and growth of technology over the years are not limited to mobile devices. Several other tools have helped shape digital classrooms, including laptops, iPads, earphones, and the likes.
Situation #5
Then
Multi-media lessons depended on video cassette tapes, CDs, and DVDs.
Now
Educational films can be played within seconds. Today, video-sharing websites such as YouTube have made it possible for educators to show the newest information during discussion.
Conclusion
As you read this, massive amounts of information are available at one's fingertips through the Internet. You're one of those students who can access the online world, right? Today, opportunities for educational learning are available online worldwide.
Whether you're in the US or not, learning opportunities are extensively accessible, thanks to technology. Truth be told, technology did make learning more interactive and fun for students and educators.
Can a school survive without the help of technology? Yes, they can. But it's for the best to use such for a brighter future. In today's fast-paced, hyper-connected environment, using technology seems like a must thing to do. Yet, some schools outside of the US are doing fine with books for learning purposes.
A school has its own goals for its students, and this can be achieved without technology. Can teachers survive by doing things manually? Absolutely. Yet, with shrinking school budgets, and the many hats that teachers wear, they can't afford to do things the low-tech way, says The Tech Advocate.
In addition to their statement, "high-technology can help teachers complete the same tasks with 95-99% less effort. Life is meant to be lived, and long gone are the days when teachers spent their weekends developing lesson plans and grading papers."
The older days are gone when technology was nowhere to be found. Use gadgets and online applications to your advantage. It's never too late to depend on it to finish things faster. Whether it's for learning or personal use, get it done effortlessly.